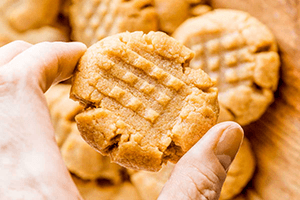 Flourless Peanut Butter Cookies Infused with Cannabis Distillate recipe
I love peanut butter cookies but like most people I like them better when they don't taste like hash. Making peanut butter cookies with cannabis oil was not always my favorite, as the taste was pretty powerful when making strong cookies.
Thankfully with the advent of cannabis distillate that is no longer a real issue. These Potent, flourless peanut butter cannabis cookies are both a delicious and gluten free way to medicate!
This recipe is super easy and has only 4 ingredients. Yield depends on the THC content of your distillate or oil. For less potent cookies, double all ingredients except the distillate.
Ingredients
1 cup of peanut butter – smooth or chunky
1 gram Cannabis Distillate*
1 egg*
*you can use egg substitute for a Vegan cookie!
*Note: You can substitute with any decarbed cannabis oil if you cannot get distillate, results will vary.
Use the following formula to easily determine how many cookies you will make: (mg of THC in the distillate / mg per cookie) = number of cookies.
Instructions
Preheat your oven to 250 degrees F (120 degrees C) Line a baking sheet with Parchment paper
Using an electric mixer, combine the peanut butter, cannabis distillate, sugar & egg and mix until nice and smooth. Be sure to scrape the sides of the bowl often to ensure even mixing. Continue mixing at medium speed for a few minutes, scraping often, until it all pulls together in a lump.
Divide the dough as evenly as possible between your desired number of cookies and place onto the prepared baking sheet. Press lightly on them with a fork in the classic cris-cross pattern until the cookies are flattend out.
Bake at 250 degrees F (120 degrees C) for about 20-25 minutes until cookies are lightly browned on the bottom but still soft on top. Cookies will firm up when cooled.