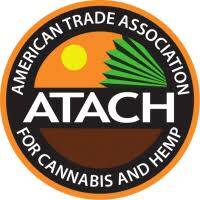 PRESS RELEASE
ATACH Earns Coveted Honor From Campaigns & Elections Magazine
Washington, DC (March 7, 2018) – The American Trade Association for Cannabis & Hemp (ATACH) is proud to announce it has won Campaigns & Elections Magazine's Stanley F. Reed Award for "Trade Association of the Year." The award is significant milestone as it signals a trend towards legal marijuana earning its place as a mainstream industry.
The Reed Award is judged by political luminaries and is the campaign industry's highest honor. It is given to the country's best campaigns, issue advocacy organizations, and trade associations.
"We are deeply humbled to be recognized as the country's Trade Association of the Year by Campaigns & Elections Magazine. This award signals the historic arrival of a cannabis trade organization on the national scene and acknowledges the work that we have done to mainstream the industry," said Michael Bronstein, executive director of ATACH.
Some of ATACH's efforts in building the integrity and legitimacy of the cannabis industry includes:
ATACH competed with other finalists such as the American Heart Association, National Association of Home Builders, and National Association of Manufacturers, for the top honor. Winners were named at a ceremony at The American Theater in Charleston, South Carolina on Feb. 27th and announced publicly by the magazine on March 2nd.
###
The American Trade Association for Cannabis & Hemp is the leading national 501(c)(6) trade organization promoting the expansion and protection of legal sales of marijuana for industrial, medical, and recreational use. ATACH's board is comprised of the industry leading companies and influential figures such as Andy Williams of Medicine Man, Erik Knutson of Keef Cola, Chris Herghelegiu of MMJPay, Charles Rutherford of Boveda, Inc., and Rick Biesecker of Drug Plastics & Glass Co, Inc. ATACH's "Industry Influencers" committee is chaired by Adolphus A. Busch V and ATACH's "Captains of Industry" committee is chaired by Josh Ginsberg of Native Roots.
Media Contact:
Michael BronsteinAndy Williams
856.720.0747