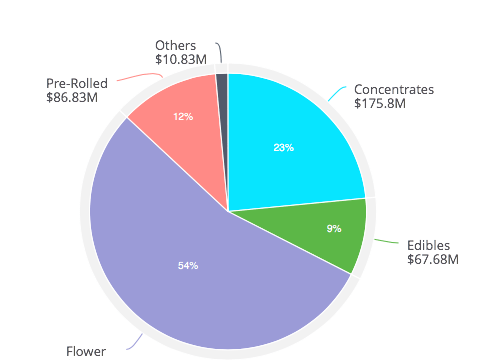 It isn't the sexiest cannabis category in the world, but sales of pre-rolled joints have been strong and steady ever since recreational legalization began in 2014 in Colorado — and sales remain robust in all states with established recreational regimes. And one slice of the pre-roll pie is expanding rapidly.
Consumers in Washington State give pre-rolls the most love, in terms of market share. In the Evergreen State, pre-rolls represent 12 percent of sales, which is higher than sales of edibles which get 9 percent of the market according to cannabis market research firm BDS Analytics. Pre-roll sales in Colorado, Oregon and California represent 5, 7 and 6 percent of the cannabis marketplace, respectively.
Growth during 2017 was sturdy in all states for traditional pre-rolls. During Q4 in Oregon, sales hit $10.29 million, which represents growth of 44 percent compared to the same quarter in 2016. Colorado's pre-roll Q4 grew by 29 percent compared to Q4 2016, on sales of $21.14 million; sales in Washington for Q3 (the last full quarter for which we have data in Washington) hit $30 million, and growth compared to a year earlier hit 44 percent; and in California, where we don't have year-over-year data for comparisons, growth between Q2 and Q4 alone represents about 30 percent — from $32.15 million in Q2 to $42.03 million in Q4.
It's a healthy and dependable sector within the cannabis industry, but one facet of pre-rolls — the market for pre-rolled joints that are sold "infused" with cannabis concentrates — is smoking.
The infused pre-roll market varies wildly between states, in terms of popularity. It rules in California, where infused joints represented 28 percent of the pre-roll market during 2017. In Oregon, meanwhile, infused pre-rolls are just 5 percent of the market. And in Colorado and Washington, infused blunts are 15 and 18 percent, respectively.
But growth in many cases is phenomenal.
Oregon may have the smallest infused market, but that may not remain the case for long. During Q4 of 2017, growth for infused joints reached 587 percent compared to Q4 2016. How's THAT for expansion? During Q1, sales in the Beaver State were just $12,712, but Q4 sales were $432,593. And the average retail price for an infused joint during the quarter was $13.22, far more than the $6.84 average for regular joints.
The price variance holds true for all states — pre-rolls sell for close to double the price of non-infused joints in all states.
Meanwhile, growth was heady in Washington State during Q3 of 2017. Infused sales rose by 103 percent, up to $5.84 million. In Colorado, infused pre-roll sales growth climbed higher than Washington's, reaching 193 percent growth on $3.16 million in sales.
And in California, the market-share leader for pre-rolls, growth between Q2 and Q4 hit roughly 20 percent, rising from $9.84 million in Q2 to $11.9 million in Q4.
Sexy? Compared to market-lifting vapes and the wild diversity of edibles — from sugar cookies to caramel-chocolate bars to sodas, pill, tinctures and much more — pre-rolls take a back seat. And while many are sold strain-specific — White Widow, OG Kush, etc. — pre-rolls generally aren't geared towards the connoisseurs, who geek-out over the trichome tapestries and aromas of the world's thousands of named strains, which they buy in ounce increments.
But they are one of the backbones of dispensary sales. And infused pre-rolls are gaining mightily in popularity among consumers.