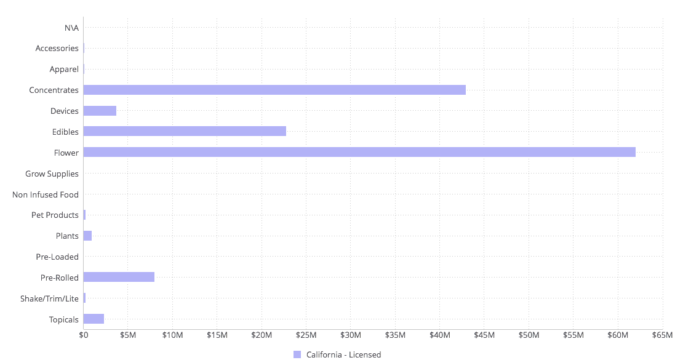 How do Californians prefer to consumer their favorite plant? Prior to recreational legalization, we fully understood where those with medical licenses spent their money. Would full legalization change things?
It did. So far, the shifts in consumer preferences between those with medical cards (all sales prior to 2018) and consumers who can simply prove they are 21 or older (sales since January 1) have not been earth-shattering. But they are interesting and tell us things about where Golden State cannabis trends are headed during this historic year of recreational legalization.
In some ways, things remained largely the same according to data from cannabis market research firm BDS Analytics.
In December, back when cannabis shoppers needed medical cards, flower garnered 44 percent of sales, concentrates 31 percent, edibles 15 percent and prerolled joints 6 percent. Things shifted slightly in January, the first month of recreational legalization: flower market share dropped a percentage point to 43 percent, concentrates also dropped a percentage point to 30 percent, and edibles rose one percent, to 16 percent.
Change? Sure. But relatively minor adjustments.
Things grow at least slightly more profound when we drill down more deeply into categories.
Californians love their vape pens with abandon, and full legalization excited vape sales even more. Back in December, vape pens captured 71 percent of the booming concentrates market. But just a month later, the piece of the concentrates' pie owned by vape pens expanded by about 10 percent, to 78 percent. The rest of the major sales categories for concentrates — wax, shatter, oils, live resin — shifted slightly, but nothing out of the ordinary compared to vape's boost. For comparison's sake, vape captured 39 percent of the concentrates market in Colorado in January.
Another interesting 2018 twist with concentrates (and other categories) — price hikes.
In December, the average price for a concentrate in California was $31.68. But in January, that number rose by close to 14 percent, to $36.41.
The edibles market, too, experienced shifts. The No. 1 and No. 2 sales categories, candy and chocolate respectively, remained on top in both December and January, although both categories saw their market share dip slightly. What category nicked at their market share? Tinctures, which rose from 14 percent of the edibles market in December to 20 percent in January.
Prices for edibles, too, rose, from $14.71 in December to $16.87 in January. Just as with concentrates, the price rise is just shy of 14 percent.
Finally, the perennial cannabis behemoth — flower. It grabbed 43 percent of California sales in December, with an average per-gram price of $9.62, which represents a rise of nearly 9 percent compared to December's average price of $8.81.
The strain-jockeying for market share between December and January evolved, although the differences with this more granular examination of sales data could be tied to differences in data collection between December and January. Beginning in January, only cannabis shops with recreational licenses are mined for data by BDS Analytics, but the state still supports shops that are selling without licenses. That will change over the course of 2018, but it certainly played a role in some kinds of data in January, such as sales numbers (which we are not covering in this piece). Meanwhile, data collection prior to 2018 involved cannabis dispensaries with altogether different medical licenses.
One thing is constant between December and January — Blue Dream rules, regardless of whether it's being sold through the old Wild West model of 2017 or the more regulated 2018 approach.
But whereas in December Gorilla Glue #4 snagged second place, in January it was Kosher Kush among licensed recreational dispensaries. Kosher Kush has been rising fast for the past year.
Prices? They rose for top strains. A gram of Blue Dream in December cost $8.21, but it had risen nearly 22 percent, to $10.21 by the end of January. Kosher Kush sold for $10.44 a gram in December, but in January the rabbi-blessed strain cost $11.96, a rise of 13.5 percent.
The evolution of the largest legal recreational cannabis marketplace in the world is just getting started. A year from now, it is likely the consumer landscape will have changed a fair bit from how it looks today.