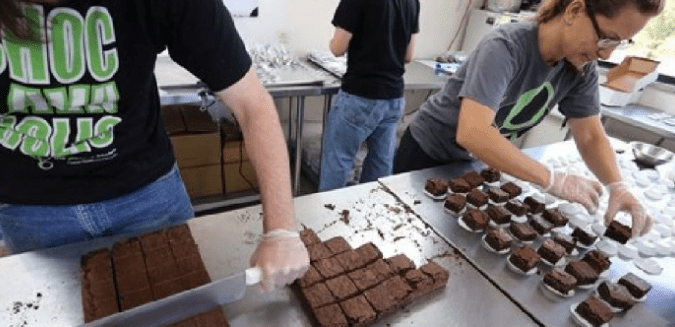 A measure allowing Colorado marijuana stores to open on-site "tasting rooms" where customers can sample some of their wares has passed the state legislature and is on its way to Gov. John Hickenlooper's desk.
It's all "for the purposes of consumer education," the measure says.
Marijuana Business Daily reports says House Bill 1258 is "believed to be one of the first of its kind in the nation – if not the first," although a handful of other states where pot sales have been legalized are considering it.
As the HB 1258 summary says: "The bill authorizes each licensed medical marijuana center or retail marijuana store to establish one retail marijuana accessory consumption establishment … that may sell marijuana, marijuana concentrate, and marijuana-infused products for consumption, other than smoking, at the establishment."
Customers could consume cannabis-infused products and concentrates purchased from the retailer in a tasting room but would not be allowed to smoke.
The House approved the final version of HB 1258 40-25 following a 22-12 approval vote in the Senate.
The measure's sponsors were Reps. Jonathan Singer and Jovan Melton and Sens. Tim Neville and Stephen Fenberg.
http://420intel.com/articles/2018/05/04/colorado-pot-tasting-room-bill-heads-gov-john-hickenlooper