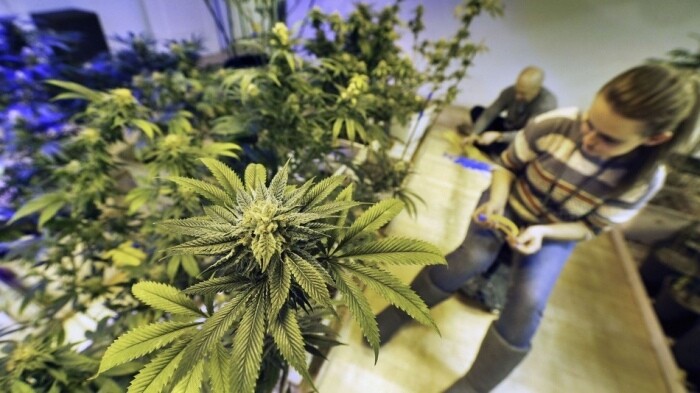 Many local and state leaders urge Michiganders to vote against legalizing recreational marijuana. West Michigan law enforcement leaders made their case Wednesday September 19, 2018 against legalizing recreational marijuana.
Voters will decide on the issue in November. In their news conference, prosecutors used examples from other states that have legalized pot, to explain why they think it would be bad for Michigan.
They claim it would lead to more car accidents, and increased crime. The group "Regulate Marijuana like Alcohol" refuted many of those findings. Muskegon county prosecutor DJ Hilson said recreational marijuana is not good for Michigan.
"We have seen the unintended consequences that have plagued the states that have already gone down this very dangerous path of legalizing recreational marijuana," Hilson said.
During Wednesday's news conference state and local leaders gave statistics from states like Colorado and Washington where recreational marijuana is legal.
"They've seen an increase in suspensions and expulsions of our youth because kids are either high in class or possessing marijuana on their campuses," Hilson said.
In a 2016 report by the state of Colorado, in the last ten years the overall suspension rate has declined. While the drug related suspension rate has increased, a decline occurred in the last year. The total expulsion rate has declined as has the drug related expulsion rate. It's also important to note that this data represents all drugs and does not breakout marijuana separately.
"I had the opportunity to meet with law enforcement officials in Colorado and actually have seen the stress that it's put on law enforcement and their duties," Ottawa County Sheriff Steve Kempker said. The Denver Police Department addresses that question and many more, in this video.
"For the police department we had to increase our numbers of officers investigating illegal marijuana based on the number of citizen complaints. One of the big surprises after legalization was the number of citizen complaints of illegal marijuana grows really increasing," Denver police said.
"It has increased the number of fatal crashes due to the consumption of marijuana and driving a motor vehicle," Hilson said. In Denver's 2018 annual report on marijuana management, it states: "Marijuana related DUID's represent a very small portion, 3.3-percent of overall impaired driving arrests."
"The crime rate in Colorado has increased 11 times faster than the rest of the nation since legalization," Network 180's Ross Buitendorp said. Denver Police say in 2017, marijuana crime accounted for .3-percent of all crime in Denver.
"The black market is still thriving in the states that have legalized marijuana," Kempker said. In that same video from Denver police, they address the problems with the black market.
"What these criminal actors are doing is they're growing the marijuana here and instead of selling it on the black market here, they're selling it in the east coast states most of which do not have recreational marijuana and the profit is so much higher," Denver Police said.
"In Colorado, the annual rate of marijuana related emergency room visits increased 35-percent post legalization," Buitendorp said. A chart from an Idaho website shows a 35-percent increase from pre legalization 2011-2012 to 2013 to 2015 with only nine months of comparable data in 2015.
"We're not getting calls of kids getting sick from marijuana or even adults getting sick from marijuana and getting sick to the point of having bad outcomes, we're not getting those every single day. They're very few and far between," Associate Medical Director for the Rocky Mountain Poison and Drug Center Dr. Christopher Hoyte said.
"It's clear and important that we cannot be the first Midwestern state to do this," Hilson said.
https://420intel.com/articles/2018/09/21/closer-look-effects-colorados-legal-marijuana-industry