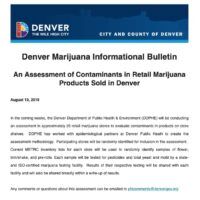 Earlier this month, Colorado cannabis producer Herbal Wellness LLC recalled dozens of batches of cannabis due to positive yeast and mold tests. The Colorado Department of Public Health and Environment (CDPHE) issued a health and safety advisory following the news of microbial contamination.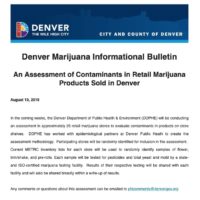 The Colorado Department of Revenue then identified batches of both medical and recreational cannabis produced by Herbal Wellness that were not even tested for microbial contaminants, which is a requirement for licensed producers in the state. Just a few days later, the Denver Department of Public Health & Environment (DDPHE) issued a bulletin announcing their plans to conduct random tests at dozens of dispensaries.
"In the coming weeks, the Denver Department of Public Health & Environment (DDPHE) will be conducting an assessment in approximately 25 retail marijuana stores to evaluate contaminants in products on store shelves," reads the bulletin. "DDPHE has worked with epidemiological partners at Denver Public Heath to create the assessment methodology. Participating stores will be randomly identified for inclusion in the assessment."
"Current METRC inventory lists for each store will be used to randomly identify samples of flower, trim/shake, and pre-rolls. Each sample will be tested for pesticides and total yeast and mold by a state- and ISO-certified marijuana testing facility. Results of their respective testing will be shared with each facility and will also be shared broadly within a write-up of results."
The post Denver Plans Crackdown on Contaminants appeared first on Cannabis Industry Journal.
https://cannabisindustryjournal.com/news_article/denver-plans-crackdown-on-contaminants/